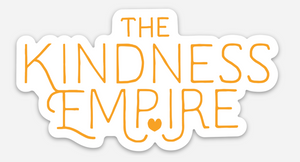 Choose how much you would like to pay for a sticker. $5, $25, $50, $100, $500. 
Now until June 17th, all proceeds from your sticker purchase will support the launch of our Courageous Educator award. 
Please remember, The Kindness Empire is a business so you will not receive a tax deduction form. Instead, you will receive gratitude and all the good feelings of supporting positive transformations in children's education.